Hey guys,
Here's a strange one taken straight out of Finland and onto your computer screen! Via Australia, of course.
The brochure is dated 2/68, so I would assume February 1968, although all the cars appear to be 1969-spec cars, with the black grille and flat tail lights, but no side vents.
Unlike a lot of international brochures that appear to have been put together by Isuzu, this one seems to have been made up of local and stock photos put together by the Finnish distributors of the Bellett, "Suomen Koneliike".
First up is the cover, which hilariously appears to have been made up of a photo of a Bellett sedan that is clearly just owned by someone; it's got some random unknown fitment on the side above the rear wheel arch, while the c-pillar seems to include a decal of a flower. Unlike most brochure pics, the tyres are a big grubby too! Oh yeah and there's some random chick in sunglasses grabbing the drip rail.
Hey, at least they ran with the standard "Isuzu" and "Bellett" brochure font, rather than just making it up as they went along like the Aussies.
Attachment: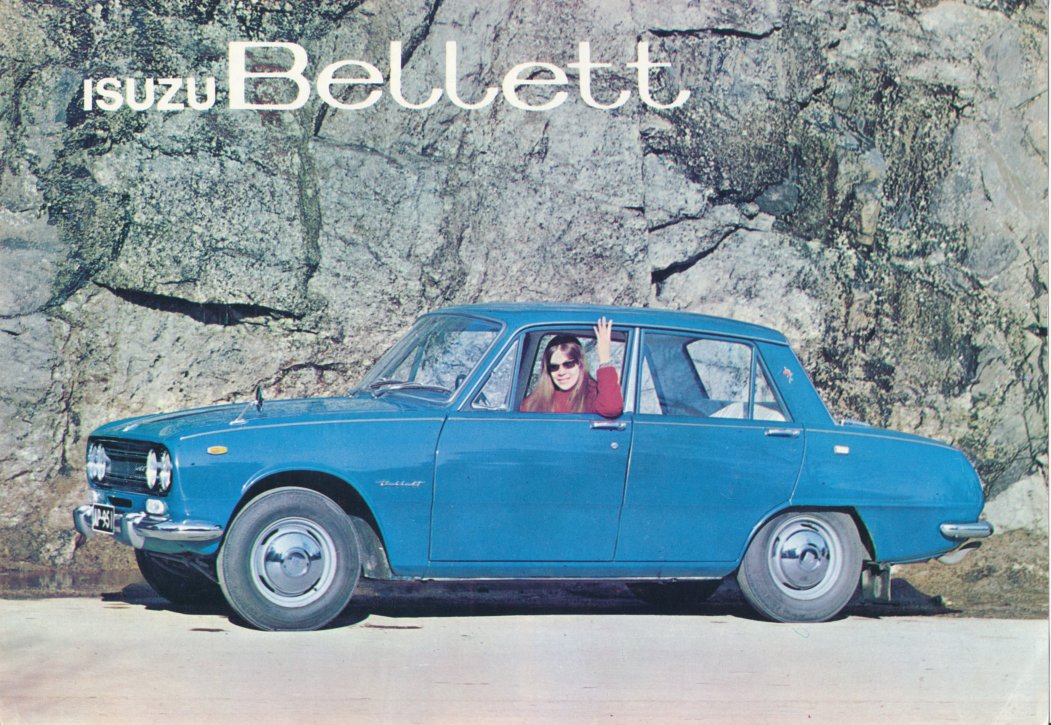 01 - Bellett range - Finnish.jpg [ 208.91 KiB | Viewed 8593 times ]
Page two and here's where things get really interesting!
Firstly, the pics of the Bellett sedans are both Deluxe models... and while one appears to be LHD, it's CLEARLY a RHD car with the reverse "Bellett" badge crudely photoshopped off the side of the car. Likewise the 1500 badge normally found on the grille.
I've managed to interpret the Finnish write up about the car... Google Translate, I love you, but if ONLY it was this easy with the Japanese!
The information next to the red "LHD" non-LHD car states:
"Youthful - timelessly beautiful! Japan kind of the Format at its best! And what's driving characteristics! Give it a try - compare the - everything you need can be found accurately from real seats."
"Bellet is easy to drive! The sturdy body and chassis structure, precise and fast rack and pinion steering, fully synchronized transmission, vibration-free motor with five main bearings, ideal for the rear axle assembly, etc., etc., are things, all of which are found only in one Isuzu Bellet! They are Isuzu's engineers and technicians designed and built just for your safety and pleasantness of your favor!"
"Isuzu Bellet - the perfect class!"
Across the middle it says: "ISUZU BELLETT - SOLID JAPANESE"
The bottom features another Bellett Deluxe, although this time they've made no attempt to hide it's RHD origins. Across on the left, the brochure features a soundbite from Pertti Kärhä who went on to compete in a couple of different Isuzu Bellett GTs in Finland.
Pertti says:
"The family car, a sports car with the performance of" --------- <that's all it said on that line - that's how it got interpreted...>
"Isuzua have not been disposable. It need not be a contest between touch and up to the standard suspension is enough rally driving. Isuzuni its rally to rally properly. Quality Counts. Man gets slower Isuzu. It does not have to 'run', only controlled. And if the car is koreempi, then it is ruined. My wife even likes Isuzusta." <I have no idea what koreempi means>
Attachment: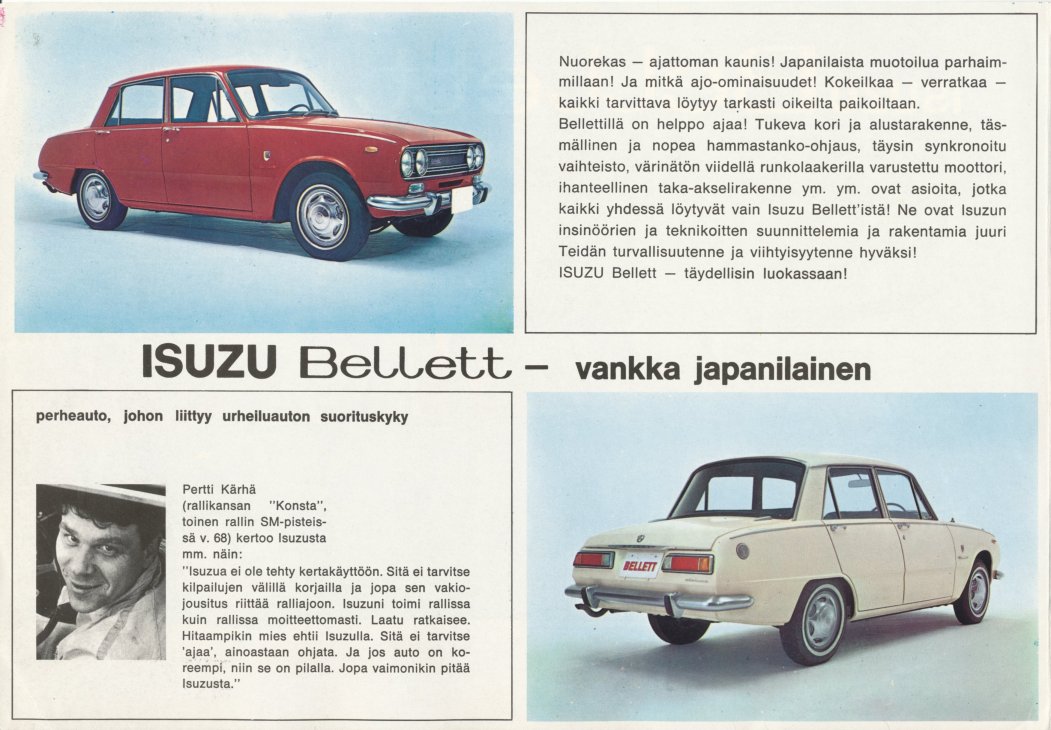 02 - Bellett range - Finnish.jpg [ 145.75 KiB | Viewed 8593 times ]
The next page is just as interesting.
The Bellett GT makes it's first appearance in the brochure, again not hiding it's RHD configuration. But how about that nice, red interior? That nice, red, SEDAN interior! Unless the LHD Bellett GT was fitted without the remote shifter and centre console of the regular RHD items, that looks like a Bellett Sport interior with tacho and extra gauges, plus the radio and clock under the dash.
Sure, perhaps it's SUPPOSED to be for the car below, which is actually a Bellett Sport... which I didn't think they made in LHD anyway. Because I'm pretty sure they didn't; if you look closely at the dashboard, the gauges and wiper switches are BACKWARDS!!!! It night not be obvious on the scan on the site, but on the original scan, I have confirmed it! The piano-style wiper switches feature a diagram of the wiper blades across the right side of each switch, but on this they are on the left! Those crazy Finnish Isuzu dealers!
They have included a write up on the Bellett GT and the Bellett Sport. Needless to say, I typed every letter into Google Translate (I did; it was a pain) and this is what we got:
"Isuzu Bellet 1600 GT is a sporty, luxurious, excellent in performance having the car, the body is reflected in the characteristics of speed and elegance. Car interior and seats have been designed to satisfy the most demanding users. A full equipment does not leave anyone to be desired."
"Isuzu Bellet 1600 Sport a sporty version of the standard model.
In both of these models 1600-1584cm is a motor which is provided with two SU carburetors. The engine power is 93 hp maximum torque of 13.0 kpm/4200 rpm. mins."
Attachment: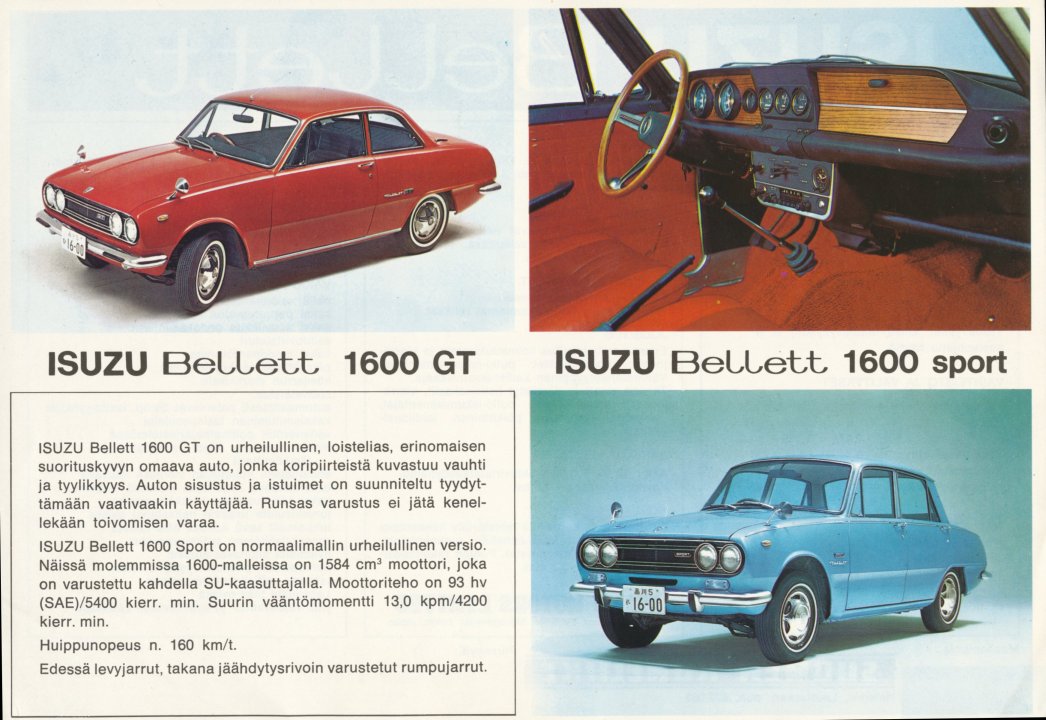 03 - Bellett range - Finnish.jpg [ 143.22 KiB | Viewed 8593 times ]
The back page is the specs sheet which is clearly not an Isuzu-sourced item given the size and font; the Isuzu items always include the little specs diagrams.
Across the bottom in large writing is:
Maahantuoja:
Suomen Koneliike
Well, that reads:
Importer:
Finnish Machine Business
EASY WHEN YOU KNOW HOW!
Attachment: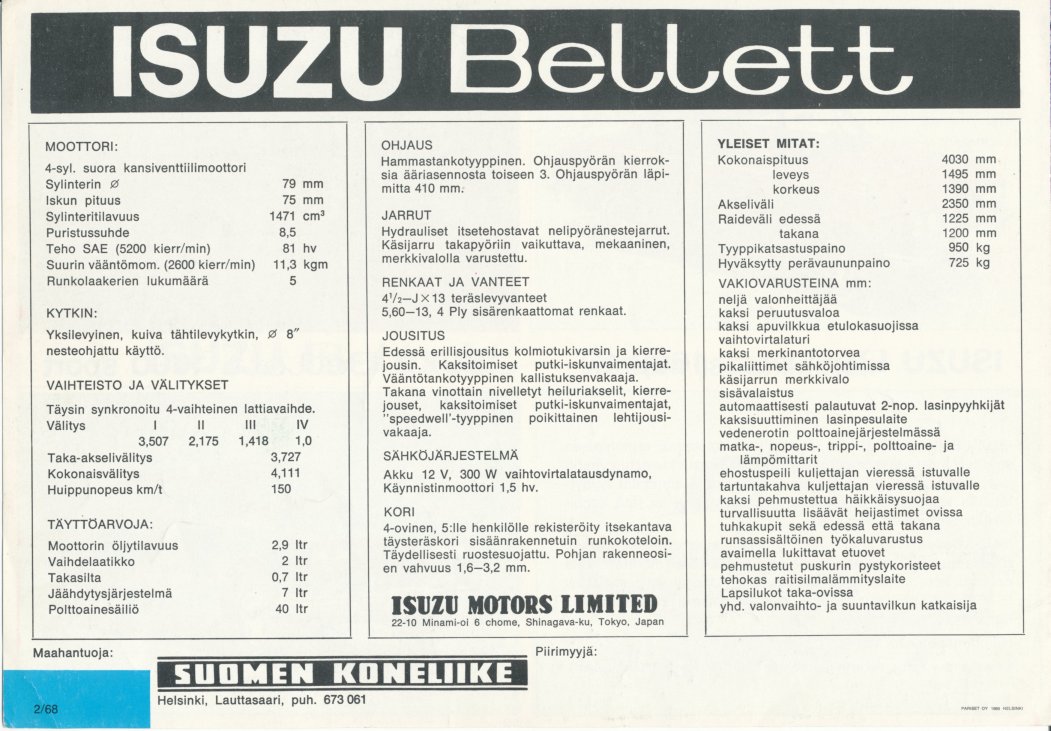 04 - Bellett range - Finnish.jpg [ 170.27 KiB | Viewed 8593 times ]
I hope you enjoyed that one; it was a lot more entertaining that the daggy front cover photo would suggest; the Finnish put together their brochures using any means necessary; random customer cars (seemingly), flipped RHD photos and doctored interior shots! It's a great one!